QUICK REFERENCE SHEET:
AIM ACT & FIRE SUPPRESSION SYSTEMS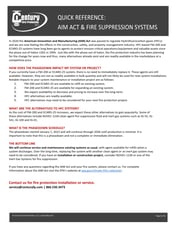 QUICK REFERENCE SHEET
In 2020 the American Innovation and Manufacturing (AIM) Act was passed to regulate Hydrofluorocarbon gases (HFCs)and we are now feeling the effects in the construction, safety, and property management industry.
Downloading this quick reference sheet will help you understand:
How does the phasedown impact your system or project?

What are the alternatives to HFC systems?

What is the phasedown schedule?