TIP SHEET: KITCHEN FIRE SUPPRESSION SYSTEMS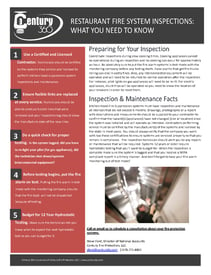 TIP SHEET
Properly installed and maintained systems are key to reducing risk and maintaining compliance. In this tip sheet we outline the most important information about inspection, testing and maintenance of restaurant fire suppression systems.
This tip sheet contains:
5 important tips for proper system maintenance
Inspection and maintenance facts
How to prepare for your inspection
For more information on Kitchen Hood Suppression Systems check out our blog.